ITN Reporting provides exceptional court reporting services. It also provides real time court reporting.
It is one of the best court reporting centres in Toronto and is about a 17 minutes drive from Pearson International Airport.
If you need court reporting services ASAP, ITN Reporting is the first choice. Our court reporters are highly trained and experienced and certainly are not those who have learnt it at home or with online court reporting programs. Our reporters will also come to your location or your home when needed.
Boardrooms
ITN Reporting has  boardrooms to accommodate 4 / 6 / 8 /12 persons, ergonomically lit to reduce eye strain, exceptionally large windows with unobstructed views, and , of course the breakout room. The boardrooms are available for pre-trial discoveries/examination under oath, judgment debtor exams, US depositions, video depositions, mediations, arbitrations, statements under oath, business meetings, WSIB hearings, OMB hearings, OIC hearings, FISCO hearings, conferences, videoconferences, teleconferences and seminars etc.. Also available are Captioning, CART, Real-time reporting, remote captioning, videography , Sign language (ASL), TTY, certified language interpreters.
Our boardrooms can be rented for half the day or full day.
Our boardrooms are equipped with state-of-the-art boardroom tables and wireless technology and IT personnel are a part of our staff and always on site. From NTSC, Pal and other format VHS video players, audio cassette tape recorders to current technology CD,DVD ,SD card equipment is available in the boardrooms.
When you are examining in Toronto, we can hook your expert in any part of the world  into the feed and set up a side chat room so that he can text you privately in real time on the testimony being provided. The video conferencing also has recording facility & screen capture capability.
ITN Reporting has the distinction of being the only reporting centre which can provide Transcripts in any of the 280 languages.
We have 'On site Commissioner of Oaths (Ontario)' for administering oaths & affirmations, giving affidavits & statutory declarations.
The building is only three years new and the boardrooms are equipped with the latest air purifiers and ionizers.
Handicap accessibility is provided to enter our reporting centre, main lobby and even free underground parking .
Last minute bookings are more than welcome and luxurious comforts combined with professional reliability are our trademarks!
Weekend and evening bookings are also available upon request at no extra cost.
Interpreters/Translators
ITN Reporting has partnered with Interpreter & Translator Networks Inc. ( who have the largest language database in Canada with over 4000 interpreters located in Canada ) which provides certified interpreters in 280 languages and hence is able to provide certified court interpreters for discoveries even at the last minute, without any advance booking.
Certified Translation and notarization of documents is also provided in 280 languages !
Tele-conference interpreting and Video conference interpreting are among the many other services available and provides the much needed convenience.
Court Reporters
Our certified court reporters and court monitors record the discoveries and depositions with accuracy.  Every word spoken is recorded and all transcripts and records are archived and held for 7 years. The normal delivery time for transcripts is ten business days or you can order the expedited overnight service depending on your time constraints and level of urgency.
E-transcripts and scanned exhibits sent by e-mail are available.
Breakfast & Lunch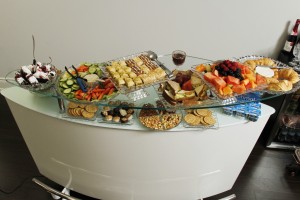 At ITN Reporting, we believe in starting off the day with a good breakfast spread of fruits, juices, cookies and muffins besides a wide assortment of snacks such as, chips, nutrition bars as well as a wide variety of specialty teas, coffees, hot chocolates, etc.
A hot lunch is an exquisite experience at ITN Reporting with the soothing noise of falling water from a water fountain in the background!
Lunch includes a hot snack, hot soup and sandwiches, besides all of the above.
To better serve our clients, we also provide snacks for special dietary requirements such as- cookies with no sugar added, low fat snacks and gluten-free snacks.
We are located in an area infiltrated with restaurants catering to a wide variety of cuisine and we would be more than happy to have a special lunch catered to your specific needs at an extra cost.
Flexible Cancellation Policy
We, at ITN Reporting, realize the stress associated with doing a pre-trial discovery and the occurrence of unexpected events beyond one's control. Therefore, we have one of the most flexible cancellation policies in place within the industry. If you let us know by 4pm the day before the discovery that you are unable to proceed, we will not charge you any cancellation. Otherwise, a three hour cancellation charge applies.
Transport
We would also be able to arrange transport for pick up and drop at reasonable rates, if so requested or desired by our valued customers.
Prices
Our prices are the most competitive in the market and very good value for money! You need to experience it to appreciate it!
What we offer
1
Conference Rooms & Boardrooms
We provide conference rooms, boardrooms for Pre-trial Discovery Examinations under Oath,Debtor exams, Arbitrations and Mediations.
2
Audio and Video Transcriptions, Captioning and CART
We provide Audio & Video Transcriptions, as well as Captioning and CART
3
Real-time Reporting
ITN Reporting provides real-time reporting and/or streaming and will provide this service via your preferred method, whether Live Note, Transcend or any alternative method.
4
Videography services
ITN Reporting also offers videography services, rough draft/dirty disk services, daily and overnight copy and condensed/mini transcripts as requested.
5
Transcripts
Various electronic formats include Word, Word Perfect, PDF, ASCII and condensed transcripts with word indexes.
6
Commissioner of Oaths (Ontario)
We provide a Commissioner of Oaths (Ontario) for administering oaths &affirmations, giving affidavits & statutory declarations.
7
Interpreters
Certified interpreters are available in 280 languages.
8
Translators
Certified and Notarized translations are provided in 280 languages.
9
Videoconference Interpreting
Videoconference interpreting is available for distant or remote locations in 280 languages.
10
Teleconference Interpreting
We also provide teleconference interpreting in 280 languages.